My license re-validation has failed, how do I re-validate my license once more?
Posted by Dayan D. Jeremiah, Last modified by Daniel Summerfield on 17 August 2014 08:15 AM
If you have received a notification from our support team or directly from our license servers that your license revalidation has failed you would need to revalidate your license manually as soon as possible to avoid any interruption to your email services.

The automatic license re-validation occurs every 30 days. This is a security measure and also ensures your license remains current and is updated as any changes to your license will also be applied automatically during the re-validation. If during the automatic re-validation your server cannot reach http://licenseprocessor.icewarp.com/request/license.php or receive its response, the administrator will receive a warning from the servers license engine. Consistent re-validation failures would typically occur due to several reasons;
If your firewall is blocking outgoing TCP Port 80 traffic
If your firewall is blocking outgoing connections to licenseprocessor.icewarp.com
The DNS server being used in your IceWarp Server System > Connection > General > DNS server: and in your TCP settings is unable to resolve the hostname licenseprocessor.icewarp.com

TIP : Do a nslookup or dig to confirm the DNS servers you are using can resolve the hostname licenseprocessor.icewarp.com
To revalidate your license manually please do this, rename the /config/license.key file to /config/license-org.key and then try to reactivate the license again by going to the Console -> Help -> License... -> [Activate License...], enter your current order id and click on the [Activate License] button. See screenshot below.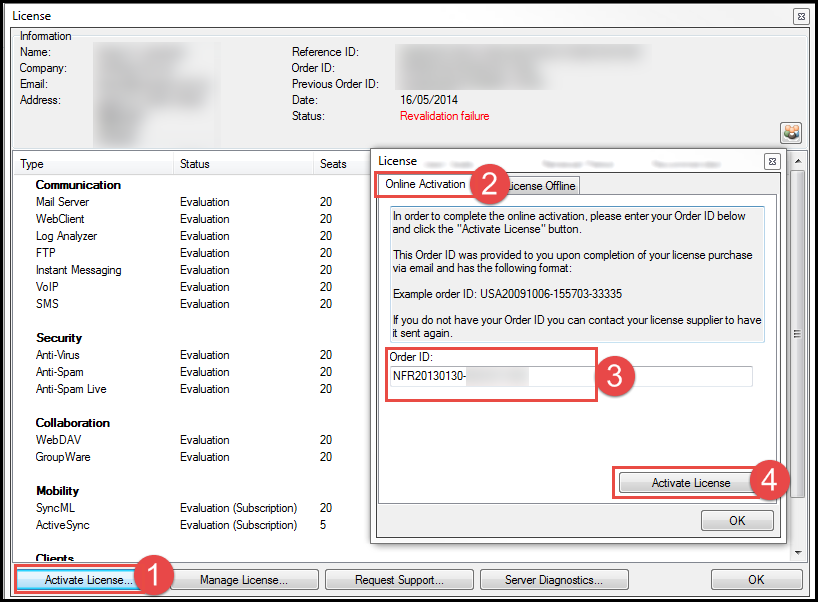 If for any reason the above does not work please rename the license file as above and then go to http://license.IceWarp.com.sg/?activatelicense , enter your current order id and click on the Next button and then manually download the new license.xml file, extract the license code from the file using a text editor and paste it into a license.key text file then copy the license.key file back into the /config folder.
---